This past week, we found ourselves with a day off from school and hankering for some outdoor fun. Not wanting to stray too far from home, though, my boys and I decided to load up the pup and head to Island Ford Park at the Chattahoochee River in Sandy Springs.
Located not far from Hwy. 400 off Roberts Dr., we wound our way a mile or so down a wooded road to a parking lot where the park headquarters is located. You'll see a few other places to pull over and park, but take my word for it and go to the end of the road to park.
There's a $5 day use fee, so make sure you pay that first and put your receipt on your dash as I did see park rangers checking that people had done so. After that, the entrance to the trailhead is right off the parking lot and you're off to a pleasant, meandering hike down a well-groomed trail.
The trail takes you down to the banks of the Chattahoochee River and past a few fun "caves" where it's said that early Native Americans may have taken shelter when they lived in the Chattahoochee River valley. My boys especially loved the caves. Not far off the trail, they are large enough to go crawl in and under, even some with "secret passages" and hiding spaces. This is a fun trail to really take your time and explore all of the neat vignettes is has to offer.
The trail is very family friendly. It's an easy hike without too steep of grades. Markers and maps are frequent and easy to read and makes navigating the trail simple. Our hike was around 3 miles total, though as I stated, we did wander a bit to explore the sites. Be sure to check out the small fishing pond toward the end of the hike, and if you have time, bring a pole and some worms and try your luck at catching a fish off of the deck!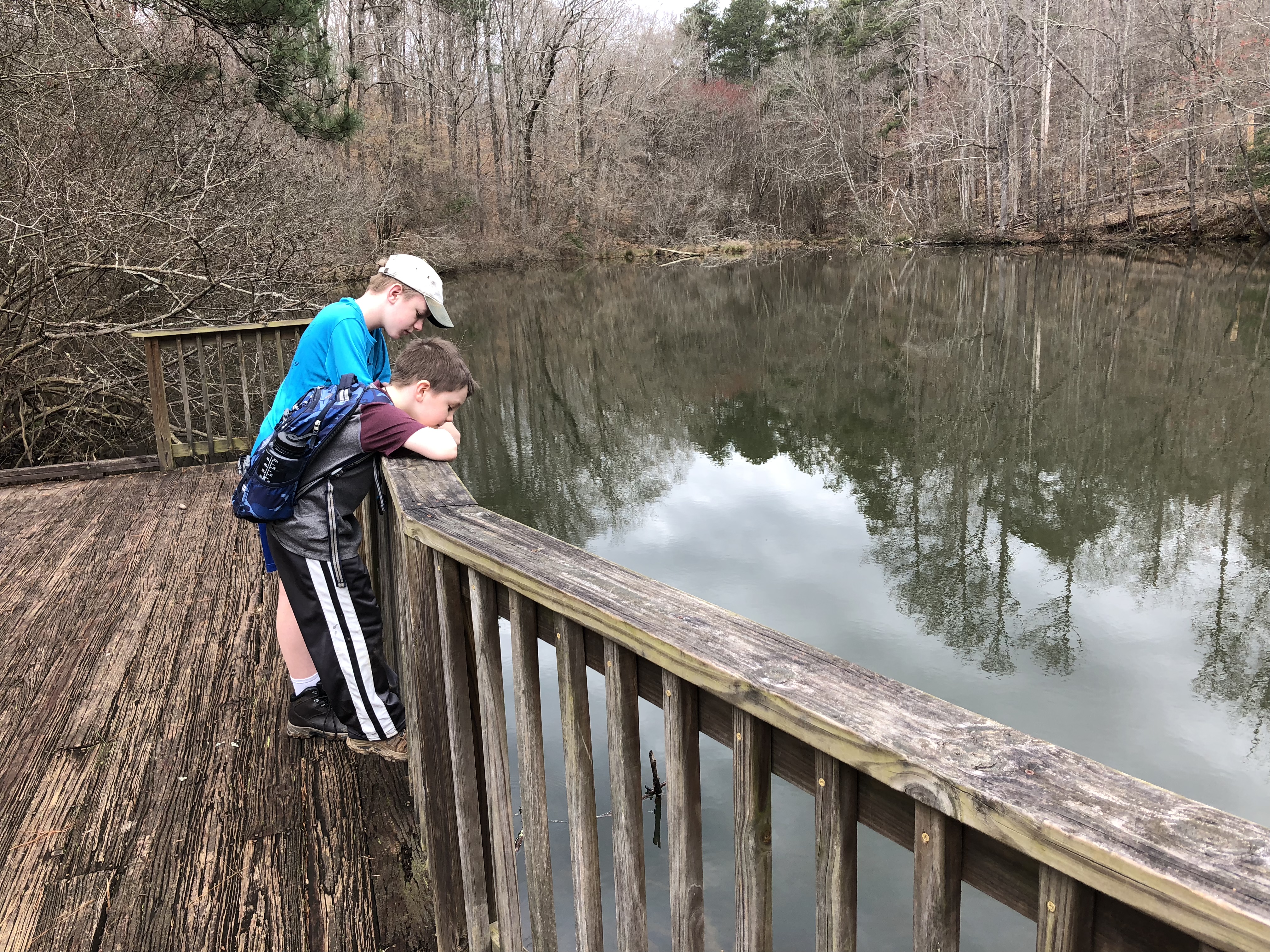 Once back to the parking lot, we were pleased to find a water fountain for everyone in the family, even the pup! What an awesome feature to make sure everyone is well-hydrated. So, pack a picnic, some snacks, and enjoy the beauty and nature of Island Ford Park, tucked away not far from home.
Island Ford Park is located at 8800 Roberts Dr., Sandy Springs, GA.
For More Family-Friendly Hikes, Check Out These Articles!