Calling all kids ages 8-14 who want to PLAY the fastest growing sport in the world!
ABOUT A5 VOLLEYBALL
Atlanta's A-5 Volleyball Club has grown to become THE premier junior club volleyball organization in the Southeast for both girls and boys volleyball.
A-5 Volleyball Club has been ranked as the number two club in the country by Triple Crown Sports over the last five years!
A-5 Volleyball Club is a non-profit organization with the mission of "Teaching Life Lessons Through the Sport of Volleyball"
A-5 Volleyball Club is the #1 place to START kids 12 and Under who want to learn and play volleyball – we have the largest youth program in the South.
A-5 coaches are some of the finest in the country with knowledge, passion, and love of volleyball and igniting this passion in their athletes.
A-5's consistent Master Coaching using our Volley Performance methodology is taught all season, as well as in year-round camps and clinics.
A-5 Players and families will make lifelong friends and bond with coaches who can see the player above and beyond where the athlete can see themselves.
A-5's culture is competitive and age appropriate, allowing every player the chance to succeed at his or her level.
TRYOUTS OCTOBER 12TH-13TH
All athletes ages eight to fourteen are encouraged to come out to our 2019-2020 club season tryouts on October 12th or 13th at one of our three locations in the metro Atlanta area.
Southern Volleyball Center, 11415 Old Roswell Road, Suite 200, Alpharetta
Suwanee Sports Academy, 3640 Burnette Road, Suwanee
A5 South, 105 Mallory Court, Tyrone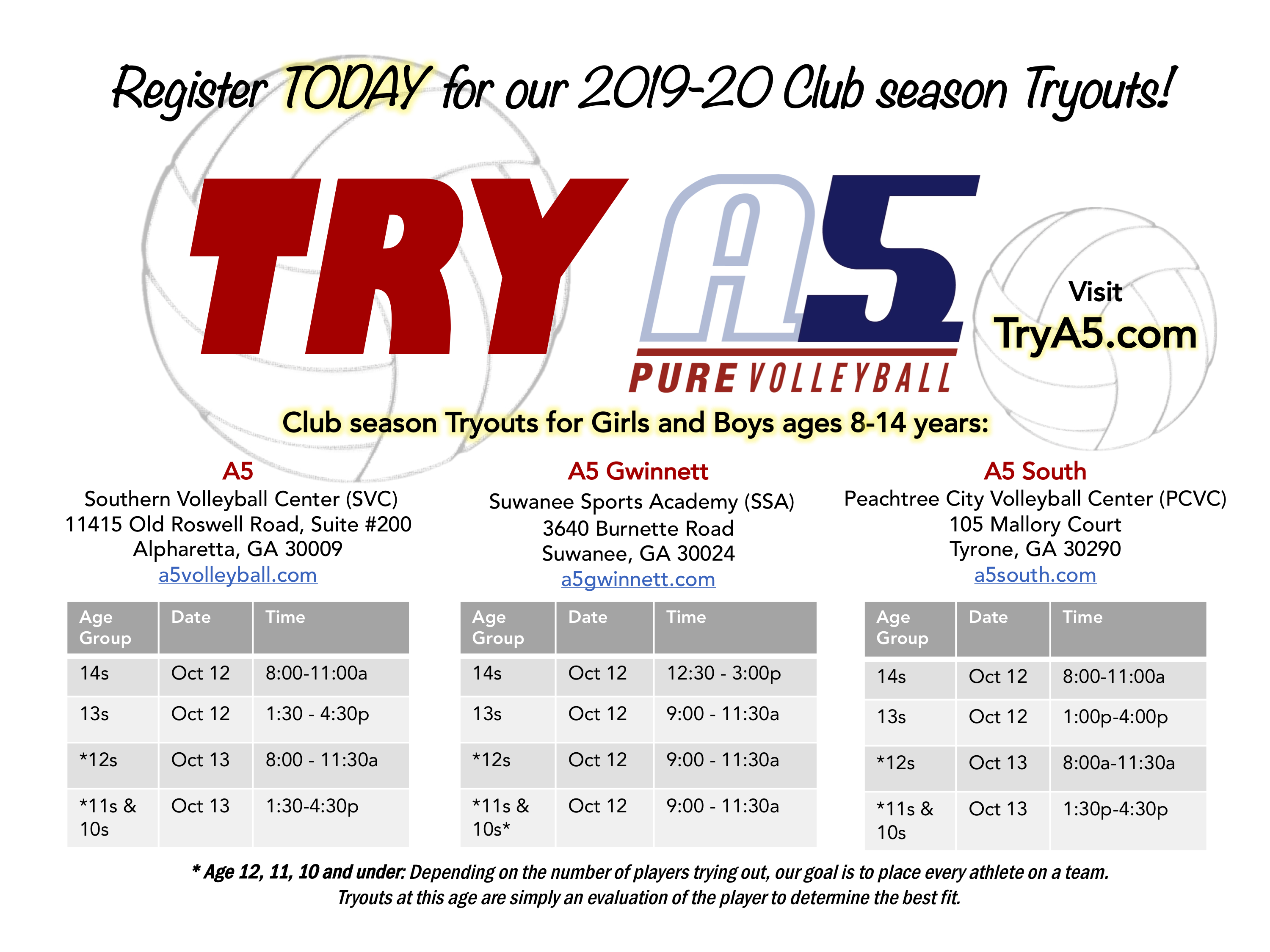 Our tryouts allow us to evaluate athletes for participation and growth in the sport and find just the right team for each player. While our age-thirteen and age-fourteen tryouts are very competitive, we do our best to find a spot for every twelve-and-under player that attend our tryouts.
MORE INFORMATION:
Visit A5Volleyball.com for more information or to get your player registered for tryouts!